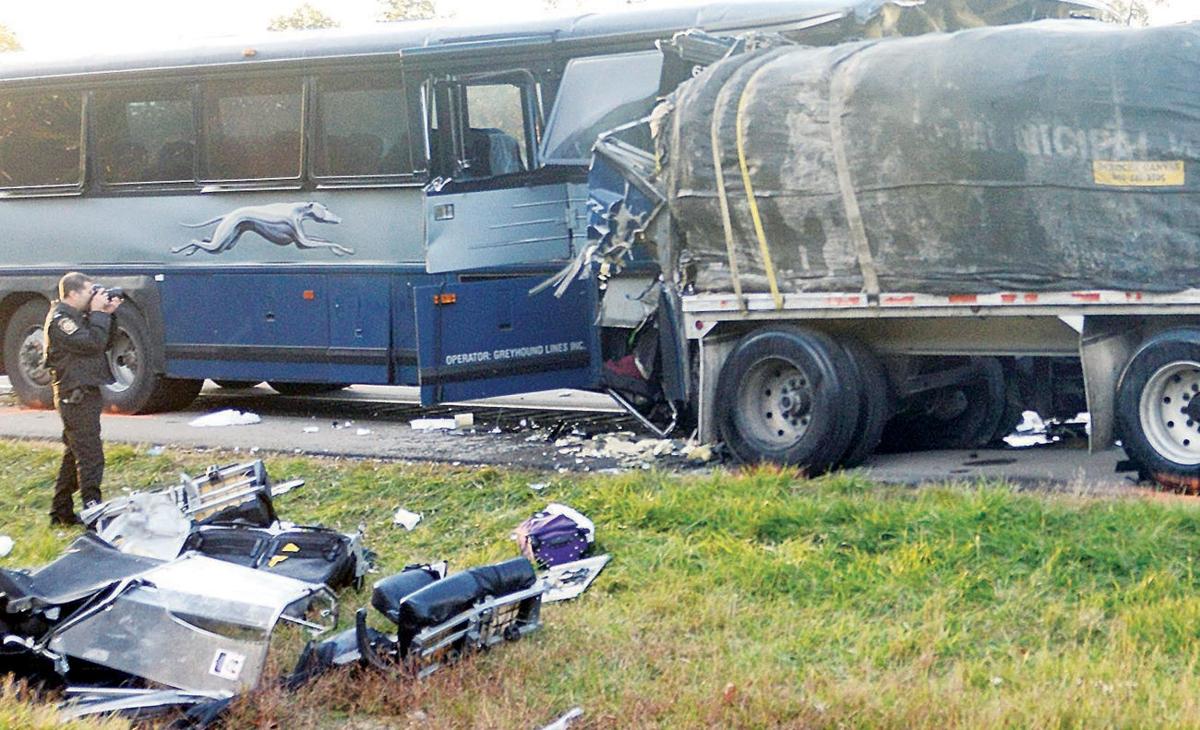 Although a motor vehicle accident is often avoidable, one is reminded of the unexpected tragedies that can occur while driving on the road. An accident in White Deer Township left over 40 people injured and one individual fatally wounded early Wednesday morning. The tragic accident occurred between two vehicles on Interstate 80 westbound just before 2:00 a.m. A tractor-trailer in commute along Interstate 80 was suddenly struck, as a Greyhound bus with 49 passengers smashed into the rear end of the trailer, leaving many people injured in its wake.
According to Police, over forty people on board the Greyhound bus were taken into five different hospitals, as scattered luggage and clothes marked the scene of the accident. Helicopters were flown in to transport some of the passengers wounded during the crash. All severity of trauma is being treated.
Both vehicles were traveling from New York City to Ohio when the crash occurred. The driver of the trailer was left without any significant injury during that moment of life-threatening possibility. As the two vehicles stopped, the driver of the trailer immediately rushed to help the passengers on board the bus most of whom were attempting to escape through the windows.
Unfortunately, the driver of the Greyhound was trapped between the seat and the back of the trailer, in need of forceful removal from the driver seat area. One other passenger was thrown into the front of the bus with the tail end of the trailer pressing directly onto his lap. What exactly caused the bus driver to collide with the vehicle in front, is not exactly known at this time. Further police investigation must be done in regards to the cause.
It is important that drivers be aware of their surroundings at all times especially while undertaking an arduous trip. A lack of caution can often lead to disastrous consequences, for the driver and the passengers the driver is responsible for. Such motor vehicle collisions can be damaging to the point of fatality, especially when there is negligence involved.  
While some accidents are unavoidable, if a driver is proven to have been negligent then it is important for the victims to seek out professional legal help. Cases that have multiple victims are most likely going to file a plethora of lawsuits, all needing proper handling and attention. A trustworthy team, such as Edelstein, Martin & Nelson, can be depended upon to satisfy any legal needs victims of negligent driving may have.
At Edelstein, Martin & Nelson, we truly understand the damaging effects accidents such as these can have on its victims. We have made it our obligation to see that all lawsuits are handled properly and that all victims recover compensation from any negligent parties. If you have been hurt in an accident because of a negligent driver, please call 888-208-1810 today, and get the help you need.